Wearing glasses as an infant, toddler, and child can be a tricky to find the perfect frame. The anatomy of our little ones is so drastically different than adults that it's common to walk into an optical and be unsure what frames we should gravitate towards.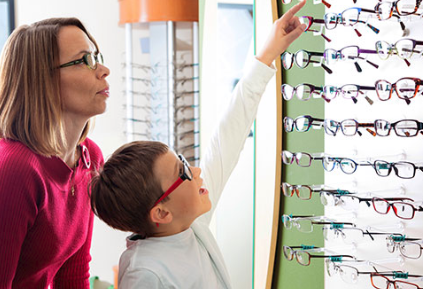 Lens considerations for Children
Let's begin with the lenses of the glasses. There are multiple components to a perfect lens so we will break it down. First is the prescription from your optometrist or ophthalmologist. Wearing this prescription is the main reason for wearing glasses. It is important that a professional make the lenses such that they line up with your pupils. If there is a progressive or bifocal design, the optical center needs to be measured precisely so that the near portion does not interfere with your child's ability to see things far away.
The lens material is usually polycarbonate or trivex. Polycarbonate lenses are 10 times more impact resistant than plastic or glass and is the standard of care in the United States for all children. Not only is it lighter in weight but it also can help block harmful UV radiation from the sun. In fact, the majority of opticals in the United States will not sell plastic or glasses lenses to any of their patients.
Adding coatings like anti-reflective or anti-glare coatings can reduce how much the lenses smudge and improve clarity. If your child has a challenging time finding their sunglasses, you can have the lenses transition from clear to dark with photochromic coatings when they are outdoors.