We love to help people with keratoconus, like our patient Adan! Keratoconus is a condition where the cornea, which is normally round, begins to bulge into a cone-like shape. We are so happy that scleral lenses are now helping Adan to see better!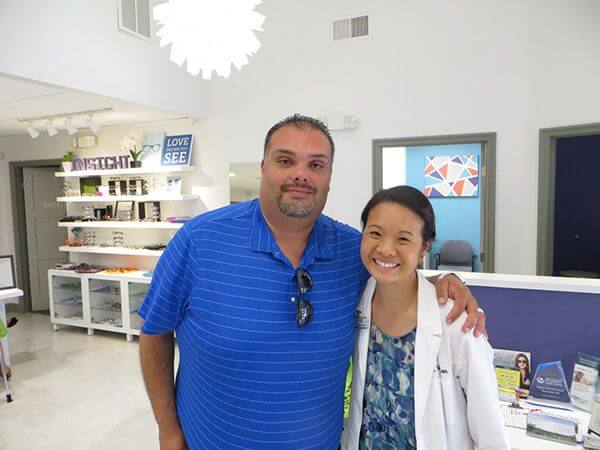 When were you diagnosed with kerataconus? What type of vision correction had you tried before? (ie glasses, hard contact lenses, soft contact lenses, etc.)
I was diagnosed officially in May of 2014, but have noticed irregularity for over 10 years now. I have used RGP lenses in the past.
How did you hear about scleral lenses?
I read about them online.
What was the fitting process like?
It was much easier than I thought. Biggest obstacle was inserting them. Besides that no other issues.
How would you describe your vision now with scleral lenses? What kinds of activities do you look forward to enjoying with your new vision?
For the first time in over 10 years I can see 20/20, I have been close with RGPs (20/40) but never with the clarity I get now. The comfort I get with not having to worry about pain from dust under my RGPs or them moving or losing one is great. I can now look forward to paint ball, basketball and other sports with my kids without worrying about losing one.