"All our dreams can come true if we have the courage to pursue them."
– Walt Disney
It's easy to dream big, but the real work comes when we have to put the "pedal to the metal" and make those dreams a reality. Insight Vision Center started as a dream in 2014. Dr. Mai and Dr. Lam sat around a dinner table talking about what the best optometry practice in the country would look like…
And now…4 years later…here we are — we are the BEST optometry practice in the country!
On Friday, May 18th Insight Vision Center was awarded the Practice of the Year. Among 500 other practices across the US, they selected us to receive this prestigious award.
To whom can we give credit for this great honor?
First to our staff, who tirelessly work 110% to serve our patients. Behind every pair of glasses, every exam, and every contact lens are hours of work our staff dedicate to making sure that it is absolutely perfect for our patients.
To our patients, for giving us the honor of taking care of your eyes and vision. For allowing us to even take care of your whole family and even your friends.
And to all the people behind the scenes who believed in our dream and believed in us. Our families for being so incredibly supportive and backing us up in every way. Our mentors and colleagues who continue to give us great ideas on how to make our office even better.
As we look forward to the future, we are building even bigger dreams for making Insight Vision Center more amazing. We have the courage to pursue them, now off to making them a reality!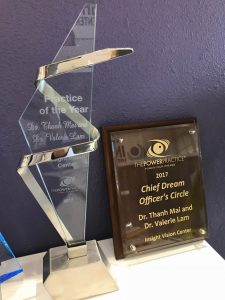 About Insight Vision Center Optometry
Insight Vision Center Optometry is a family-oriented practice composed of a team of certified, licensed, and experienced eye doctors, professionals, and staff. It has become our goal to help each of our patients enjoy life better, from childhood up to their golden years. This continues to inspire us to do better every single day, to become one of the most trusted eye care and optometry practices in Costa Mesa, CA and the surrounding areas.
Valerie Lam OD, F.A.A.O, F.C.O.V.D Developmental Optometrist
Dr. Lam has experience working in various settings, including low-income schools, low vision clinics, surgery centers, and ophthalmology. She completed her Pediatrics and Vision Therapy residency at SCCO because she is passionate about treating children and helping them overcome learning problems related to their vision.
Thanh Mai OD Developmental Optometrist
Dr. Mai trained under eye surgeons who repaired retinal detachments on NBA players and also did a vision therapy rotation with the official eye doctor of the San Diego Padres. After SCCO, he spent his time working in clinics specializing in orthokeratology or corneal reshaping and treating patients with keratoconus with scleral lenses.