Vision after Concussion or Traumatic Brain Injury (TBI)
After a concussion or brain injury (brain surgery, stroke, fall), a person may experience various vision problems due to the injury's impact on the brain. These vision problems are collectively known as post-concussion vision syndrome or post-traumatic vision syndrome.
Here are some of the common vision problems that can arise after a concussion:
Blurred Vision: Many individuals experience blurred or fuzzy vision following a concussion/TBI. This can make it difficult to focus on objects at various distances.
Double Vision: Concussions/TBIs can cause damage to the nerves that control eye movement, leading to double vision (diplopia). This means seeing two images of a single object.
Sensitivity to Light (Photophobia): Increased sensitivity to light is a common symptom after a concussion. Exposure to bright lights or sunlight may cause eye discomfort or headaches.
Eye Tracking and Teamwork Problems: Concussions/TBIs can disrupt the coordination and synchronization of eye movements. This can result in difficulty tracking moving objects, following lines of text while reading, or focusing on objects as they approach.
Eye Fatigue: After a concussion/TBI, individuals often experience eye strain and fatigue more easily than before the injury. Activities that require visual concentration, such as reading or using a computer, may become tiring or cause headaches.
Reduced Depth Perception: Concussions/TBIs can affect the brain's ability to process visual information accurately, leading to problems with depth perception. Judging distances and spatial awareness may become challenging.
Visual Field Deficits: Some individuals may develop visual field deficits after a concussion/TBI, which means they have difficulty perceiving objects in certain areas of their visual field. This can be characterized by blind spots or areas of reduced vision.
Visual Processing Issues: The brain's ability to process and interpret visual information may be affected by a concussion/TBI. This can result in difficulties with visual memory, recognition, and comprehension.
What is Neuro-Optometric Rehabilitation?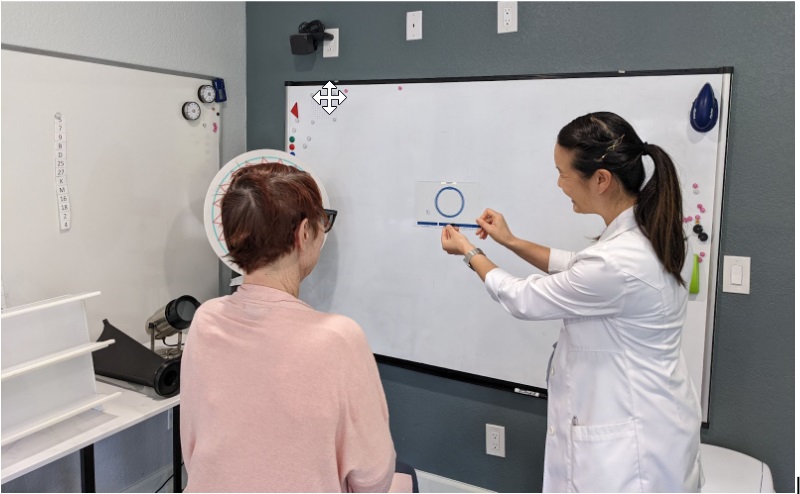 Neuro-Optometric Rehabilitation uses active exercises to retrain the eyes and the brain to work together again. Following a concussion/TBI, the connection between the eyes and the brain gets shaken up and doesn't respond as accurately or quickly as it used to. Rehabilitation aims at building up stamina again, restoring function, and recalibrating the visual system to how it used to perform. It can take a span of several months up to years to restore the visual system depending on the severity of the concussion.
Let Us be Part of Your Rehabilitation Team
If you or your child has suffered from a concussion/TBI, don't despair- help is on the way!  Call us at (714) 942-1361 to book a Visual Efficiency Evaluation to get started or book your evaluation online here