Our Valuable Team Members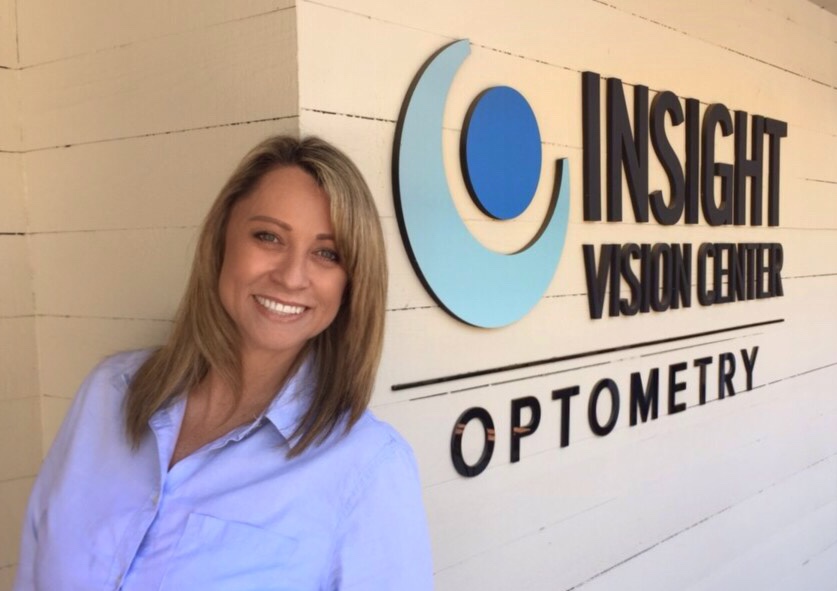 Nicole Milewski
Optician
What's your journey that brought you to Insight Vision Center Optometry?
I was born, raised, and educated on the Gold Coast of Australia. While continuing my education, at the age of thirteen I became a professional show water skier at Sea World of Australia. My profession allowed me to travel the world performing where I met my husband from Michigan. We settled in Australia to have a family and I continued my education, that is where I found my interest in optics. I've been an optician in Australia for 12 years and loved every minute!
We have a daughter who is a very talented and accomplished musician in Australia. As she wanted to pursue her passion for music in the USA, we decided to move to California. I was fortunate enough to come across Insight Vision Optometry. The Dr's and team are motivated, professional, and genuinely caring for their patients and I knew this is where I wanted to be.
What do you love most about your job?
Everyone's journey is different when it comes to your eyes, you never stop learning and you meet the most incredible people. As they say, "the eyes are the window to the soul."
---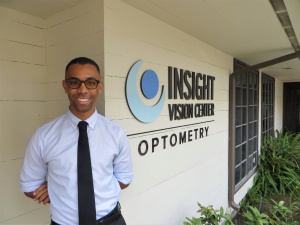 Jordan Barnes
Optician
What's your journey that brought you to Insight Vision Center Optometry?
I grew up in Southern California before moving to the Pacific Northwest where I spent seven years in Portland, Oregon. While living in Portland, I explored my interests in visual arts and fashion design. I became interested in eyewear after discovering I had a slight astigmatism in both eyes during a routine eye exam that resulted in my doctor suggesting I get a pair of glasses. I chose a beautifully crafted handmade frame and immediately fell in love with wearing glasses as a fashion statement. Not only did I love my glasses aesthetically, but I was also thrilled that my astigmatism was corrected and I could see the world so much sharper through my camera lens! It was at that moment I decided I wanted to learn more about the world of eyewear and optometry. Shortly after I started working for a local optometry practice where I had the opportunity to aid patients in filling their prescription and helped choose the perfect frame for their style; ensuring they too could see the world crystal clear. When I moved home to SoCal I was lucky enough to have discovered Insight Vision Center where I am currently continuing my journey into the fascinating world of optometry!
What do you love most about your job?
What I love most about my job is that I get to help change people's lives tremendously! Your eyes are precious and being able to see well is extremely important. I also absolutely love working with Dr. Mai and Dr. Lam because they are both extremely loving people who go above and beyond in their work and care deeply for their patients and staff.
---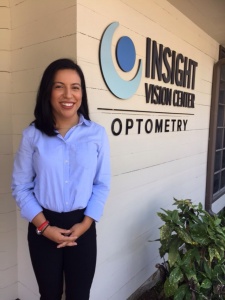 Kristy Figueroa
Optician
What's your journey that brought you to Insight Vision Center Optometry?
As an undergrad at UC San Diego, I explored many career fields, but found myself very intrigued by the health care professions. At my very first annual eye exam I had the opportunity to really gain a full understanding of what the field of optometry is. My doctor at the time really loved what she did and it was very apparent. I attended UCSD with the intention of completing requirements for optometry school. I had an incredibly fulfilling experience in college as I was very involved in student affairs, volunteered, and shadowed an optometrist all while completing my degree in General Biology. My path took me into an initial career in Higher Education, but most recently I decided to venture back to my initial goal of working in the optometry field. Insight Vision Center has provided me the incredible opportunity to fully appreciate and continue my journey to my ultimate career goal of becoming an optometrist myself one day.
What do you love most about your job?
It is an incredible feeling coming to work knowing you will make a difference in the way someone sees the world. I love that Dr. Mai, Dr. Lam, and the staff genuinely love what they do and are always making sure expectations are exceeded with every patient that walks through the door.
---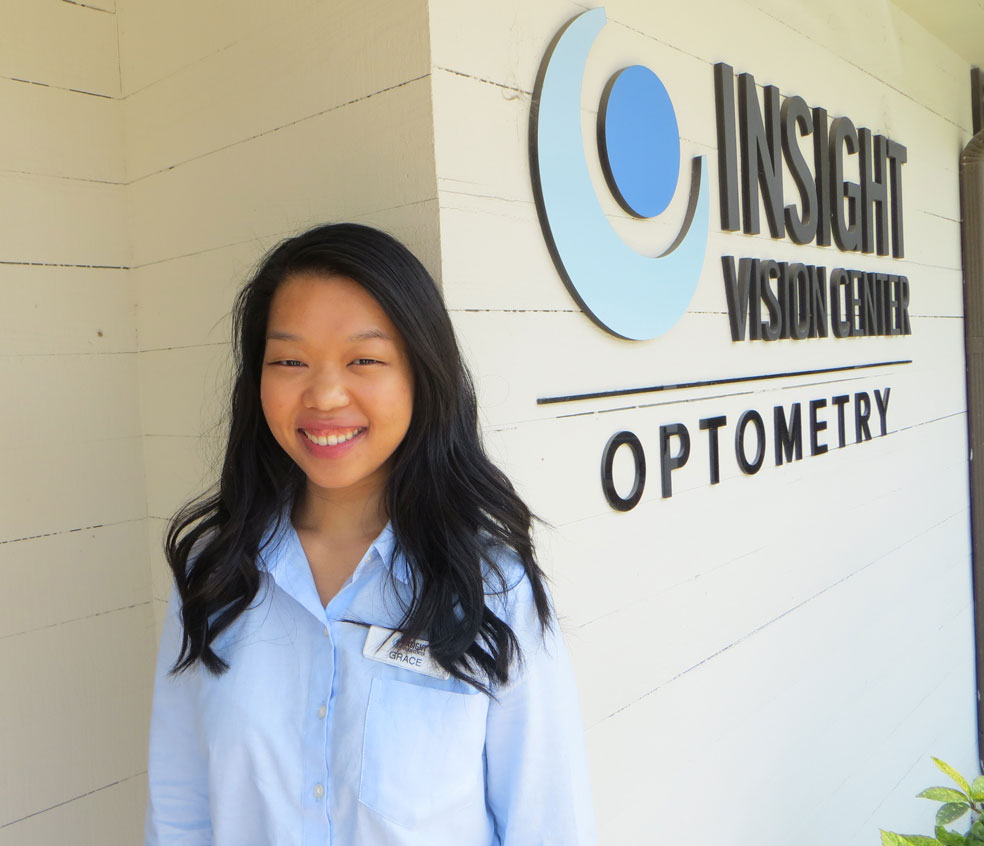 Grace Wan
Vision Therapist
What's your journey that brought you to Insight Vision Center Optometry?
My journey to Insight Vision Center Optometry has been an exciting and unexpected one. I graduated from the University of Arizona with two bachelor's degrees – one in Religious Studies and one in Communication. I moved after finishing college from my hometown Gilbert, AZ to the big city: Los Angeles. For a year I interned with an Asian American Christian Organization where I worked with college students. After that, I decided to take a leap of faith and step out into the workforce, with the same passion and desire to help people in a tangible way. The years before coming to Insight, I dabbled in restaurant business, caregiving, and eventually found myself working at a Lasik eye center where I first gained exposure to the world of optometry. It was there that I gained a great appreciation for clear vision and also wanted others to experience the same thing. A year after working there, I was blessed with the opportunity to join the Insight Vision Center team where I am continuing to learn more about optometry and vision therapy. Coming here has helped me to discover my passion for vision therapy. I love being able to work closely with our patients, playing games and doing fun activities that are actually helping them improve their vision. I look forward to learning, growing, and helping people improve their eyesight so they can love the way they see!
What do you love most about your job?
I love going into work knowing that I am playing a part in helping someone improve the way they see. Dr. Mai, Dr. Lam and all the staff members are driven by their desire to put the patient first, and it is evident in the way they work, interact, and care for them. I love coming into work knowing that each day will be different, filled with various wins and challenges. I'm so thankful for my team and Insight Vision Center! It is a fun and exciting place to work at and I am looking forward to growing with this team!
---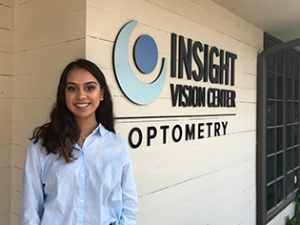 Shreya Patel
Intern
What's your journey that brought you to Insight Vision Center Optometry?
I graduated UCLA with a double major in Biology and Asian Humanities. My journey began my first year of college when I went to Honduras as a Global Brigadier. On the trip, I instantly clicked with the work of a vision clinic. I was astonished at the impact a simple donation of glasses could have on a person's day to day life. From then on, I immersed myself in vision research at my university as well as several more clinical trips abroad in Mexico and an eventual East-West medical internship in China. With my opportunities at my university and abroad, I was able to build a strong passion and understanding in vision care in a clinical and global environment. I hope to bring my experience to an eventual career in optometry, and that is why I am an intern at Insight Vision Center.
What do you love most about your job?
I love the work environment at Insight Vision center because the staff is very passionate about giving the best vision care, and they are very willing to go the extra mile to make sure that patients are happy and satisfied with their experience. Dr. Lam and Dr. Mai are very knowledgeable mentors and they helped me learn and get the most out of my internship!
---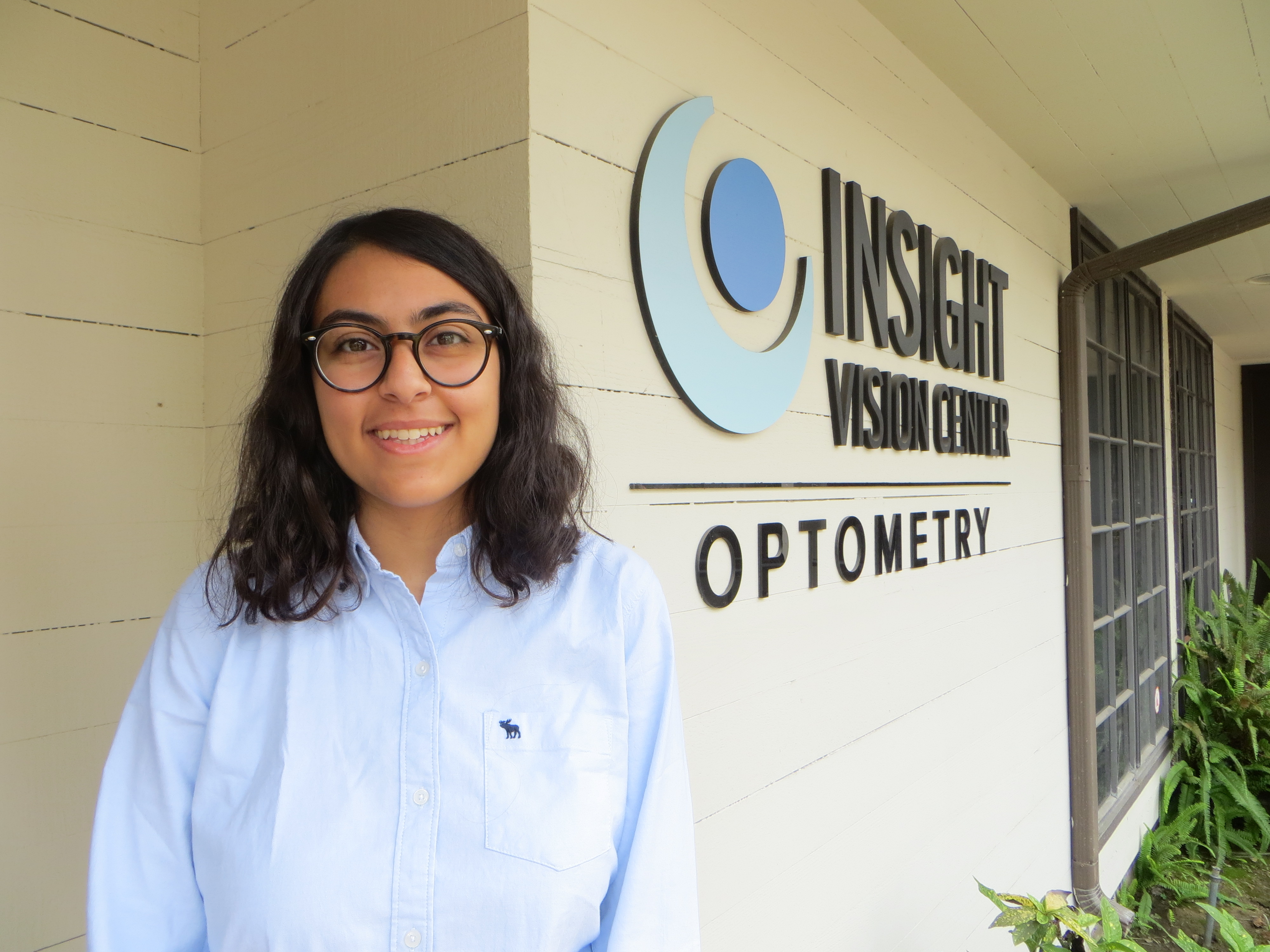 Nina Parshekofteh
Intern
What's your journey that brought you to Insight Vision Center Optometry?
My first exposure to anything eye related was having my mom tell me that if I crossed by eyes too much it would get stuck in that position. While growing up, I had an interest towards the medical field but did not quite know that the Optometric world was the perfect fit for me. I had volunteered at an array of doctor's offices and at my local hospital, hoping to get a glimpse of what I would want to do for the rest of my future. When entering college, I was lucky enough to meet my partner, Lafayette, who was also exactly in the same position as me, just a clueless freshman. Since then, we both were inspired by our local optometrists and how their work can be incredibly life changing. The ability to change one's view of the world through a pair of glasses and a warm office experience was definitely a goal worth working towards! Through our classes at UC Irvine, we began learning not only about biological components of the eye, but we were intrigued by the social, environmental, and cultural factors that circulate around eye health. With hopes of attending optometry school, there is also hope around doing research and creating initiatives that will create permanent change for those suffering from insufficient vision care and inequality.
What do you love most about your job?
Having this incredible opportunity to be interns for both the most inviting and caring doctors has been an amazing experience. Both the staff and doctors have helped us learn so much! We have learned not only information about how the eyes work, but also how a proper optometric practice is managed and run in order to compassionately meet the needs of patients. This dedication towards patient health, wellbeing, and vision mindfulness has been a key component in driving my desire to become an optometrist in the future!
---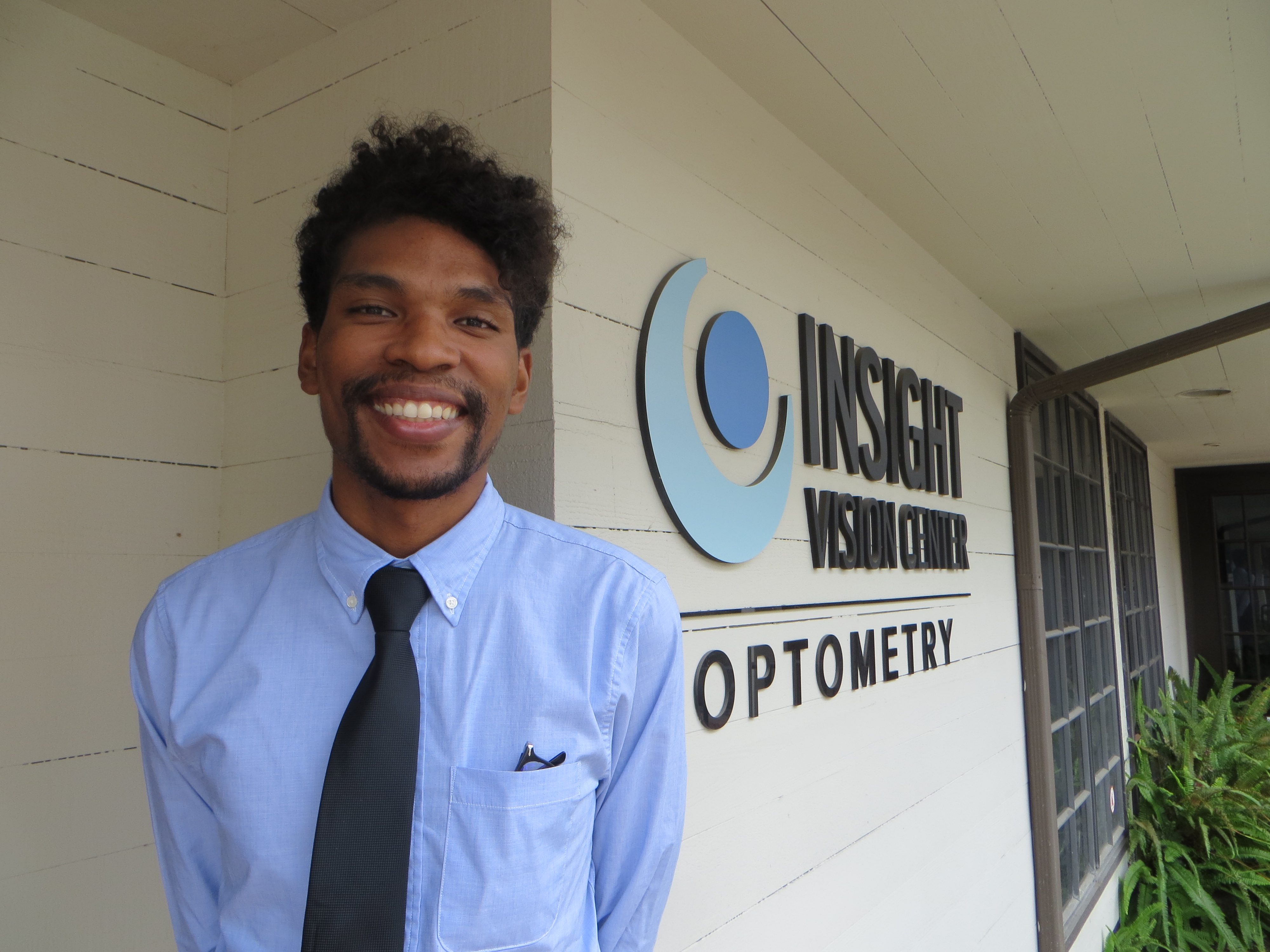 Lafayette Pierre White
Intern
What's your journey that brought you to Insight Vision Center Optometry?
Growing up, eye health and optometry was a complete mystery to me. During my childhood, though, I distinctly remember my younger brother Devin having to wear some sort of eye patch, with me simply imagining him as a sort of pirate. I did not necessarily know how or why this helped; all I knew was that he had something wrong with his eyes. When first entering college, I had met my partner Nina, as we were both considering a career in health at the time. We began volunteering at Saddleback Memorial Hospital, as we looked to exercise our interest in the medical field. While searching for further volunteer and involvement opportunities, we decided to shadow for our optometrist at the time. After spending some time in their office, witnessing the patient interaction, and what an optometric practice is like, we decided to pursue a career in optometry. As current Undergraduate students at UC Irvine, we have been given the amazing opportunity to learn much more about optometric health, not only biologically but also from a social, political, and environmental standpoint as well. Through this path of fulfilling optometry school requirements and working diligently in school, I always think of my brother Devin and how, hopefully, one day I will not only know why his eye patch worked in helping his vision, but be able to ask and answer questions that surround him and others of similar conditions.
What do you love most about your job?
Being able to come in every day and be greeted with a smile from everyone in the office is what makes being apart of Insight Vision Center so amazing. This incredible opportunity has allowed me to not only work with the most friendly patients in the world but also with the best staff and optometrists in the world! I believe one of the best parts of Insight Vision Center is being able to see the patients leave with smiles on their faces, not only because their vision is perfected but now they are a part of a caring and close-knit group of individuals known as the Insight Team!
---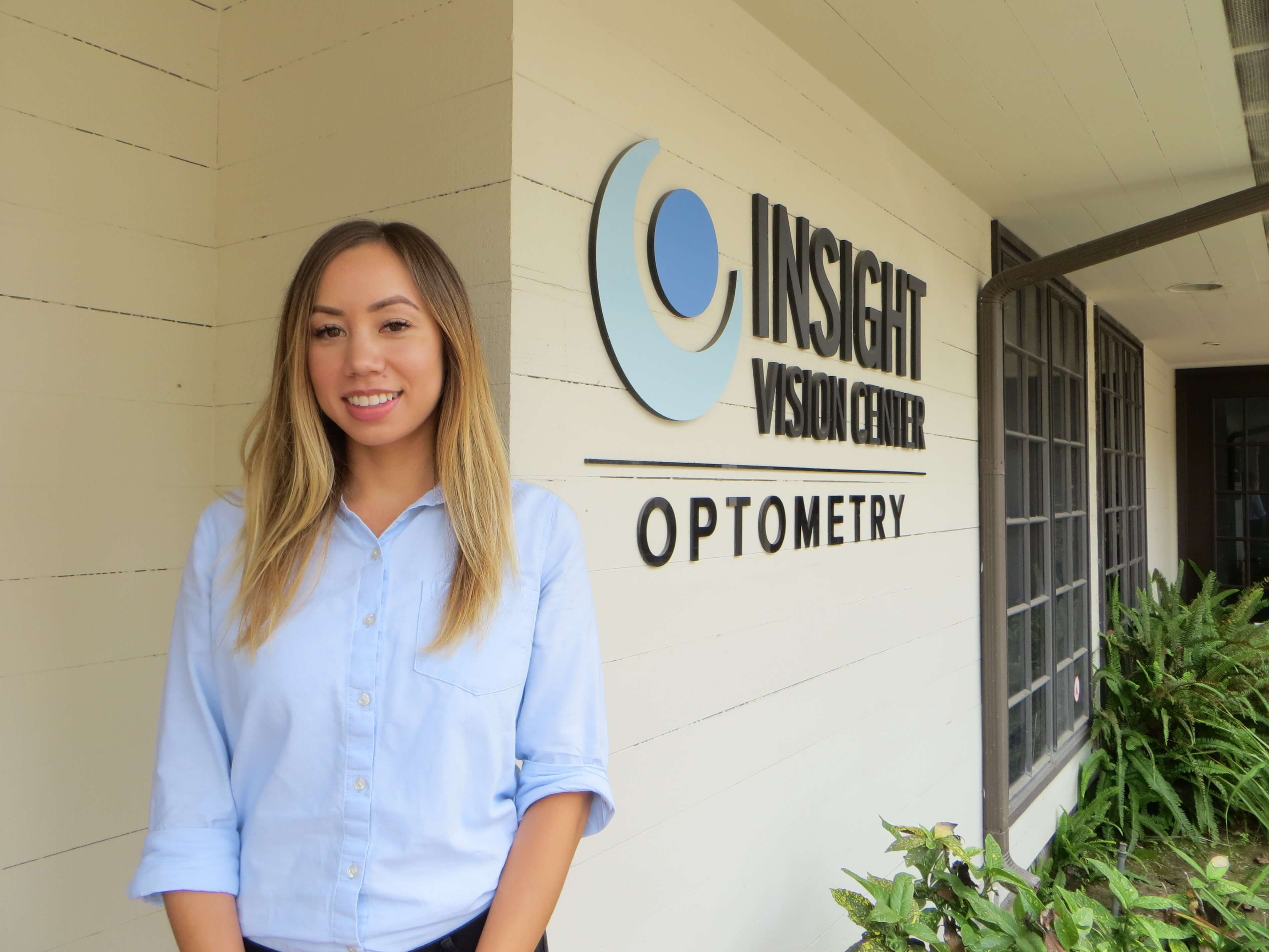 Allison Andrews
Intern
What's your journey that brought you to Insight Vision Center Optometry?
I started off my college career as a piano performance major which gave me the opportunity to teach piano at a local piano school. It was here that I realized how much I love working with kids and having the opportunity to benefit a person's life. Although teaching has been a rewarding experience, I still felt motivated to be able to do more for people. It was this motivation that guided me to pursue a biology degree, which I am currently working on at Cal State Fullerton. After shadowing doctors and learning more about the field of optometry through the CSUF pre-optometry club, I realized that optometry was the right fit for me. Becoming involved in the pre-optometry club, as well as being an executive board member, gave me the opportunity to meet fellow members of the optometry community. Along with my experience at Insight, I am also working with a nonprofit organization that provides vision services to the underserved community. These experiences taught me how much better you can make someone's life by giving them the gift of better vision.
What do you love most about your job?
I love how caring and passionate everyone is at Insight Vision Center. Dr. Mai and Dr. Lam are some of the most kind-hearted people I have ever met with an incredible amount of knowledge and an endless desire to be of service. I also love that we are a family friendly office and I get to work with kids of all ages!
---
Learn More How Our Optometry Team Can Help You. Contact Us, Today!
Our team of professional eye doctors and friendly staff are here to care for all of your vision needs. Give us a call at (714) 486-3315 or click here to schedule your consultation with one of our eye doctors. We are always eager to help!
Insight Vision Center Optometry serves Costa Mesa CA, Irvine CA, Newport Beach CA, Santa Ana CA and Huntington Beach CA.