Our Valuable Team Members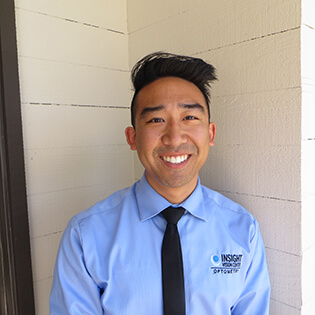 Jaime Antonio
Optician
What's your journey that brought you to Insight Vision Center Optometry?
I graduated from the Bob Cole Conservatory of Music at California State University, Long Beach with two Bachelors of Music in music performance and music education. Catch me performing in Downtown Disney in the summer or playing saxophone at Cottonwood Church in Los Alamitos, CA! Prior to graduating, I found inspiration in the work of Joshua Silver to pursue a career in optometry to help improve the quality of life of the 60% of the global population living with vision problems. Insight Vision Center gives me the opportunity to participate in helping people increase their enjoyment of life through the way they see.
What do you love most about your job?
I am passionate about learning and Dr. Mai and Dr. Lam are always open to sharing knowledge about eye health and eye science. I am a recipient of refractive vision correction and a beneficiary of vision therapy to correct amblyopia, two of Insight Vision's specialties. My eye treatments date back to my childhood, so I naturally resonate with Dr. Mai and Dr. Lam's mission to solve vision problems that interfere with learning and education to positively impact people's lives.
---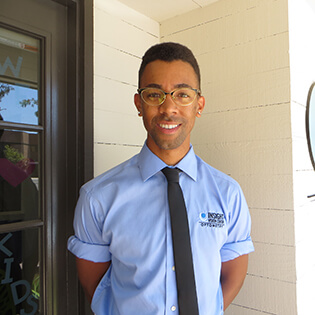 Jordan Barnes
Optician
What's your journey that brought you to Insight Vision Center Optometry?
I grew up in Southern California before moving to the Pacific Northwest where I spent seven years in Portland, Oregon. While living in Portland, I explored my interests in visual arts and fashion design. I became interested in eyewear after discovering I had a slight astigmatism in both eyes during a routine eye exam that resulted in my doctor suggesting I get a pair of glasses. I chose a beautifully crafted handmade frame and immediately fell in love with wearing glasses as a fashion statement. Not only did I love my glasses aesthetically, but I was also thrilled that my astigmatism was corrected and I could see the world so much sharper through my camera lens! It was at that moment I decided I wanted to learn more about the world of eyewear and optometry. Shortly after I started working for a local optometry practice where I had the opportunity to aid patients in filling their prescription and helped choose the perfect frame for their style; ensuring they too could see the world crystal clear. When I moved home to SoCal I was lucky enough to have discovered Insight Vision Center where I am currently continuing my journey into the fascinating world of optometry!
What do you love most about your job?
What I love most about my job is that I get to help change people's lives tremendously! Your eyes are precious and being able to see well is extremely important. I also absolutely love working with Dr. Mai and Dr. Lam because they are both extremely loving people who go above and beyond in their work and care deeply for their patients and staff.
---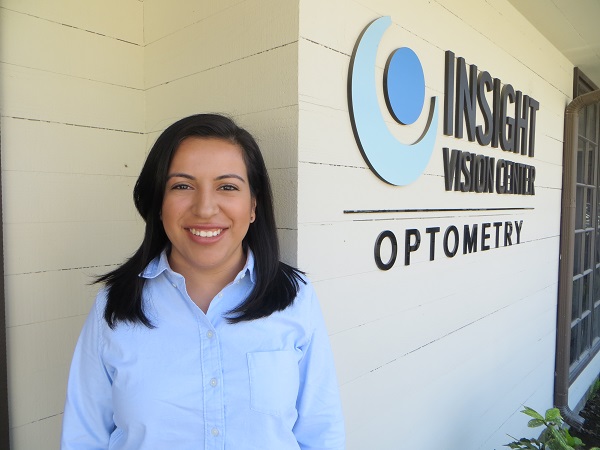 Kristy Figueroa
Optician
What's your journey that brought you to Insight Vision Center Optometry?
As an undergrad at UC San Diego, I explored many career fields, but found myself very intrigued by the health care professions. At my very first annual eye exam I had the opportunity to really gain a full understanding of what the field of optometry is. My doctor at the time really loved what she did and it was very apparent. I attended UCSD with the intention of completing requirements for optometry school. I had an incredibly fulfilling experience in college as I was very involved in student affairs, volunteered, and shadowed an optometrist all while completing my degree in General Biology. My path took me into an initial career in Higher Education, but most recently I decided to venture back to my initial goal of working in the optometry field. Insight Vision Center has provided me the incredible opportunity to fully appreciate and continue my journey to my ultimate career goal of becoming an optometrist myself one day.
What do you love most about your job?
It is an incredible feeling coming to work knowing you will make a difference in the way someone sees the world. I love that Dr. Mai, Dr. Lam, and the staff genuinely love what they do and are always making sure expectations are exceeded with every patient that walks through the door.
---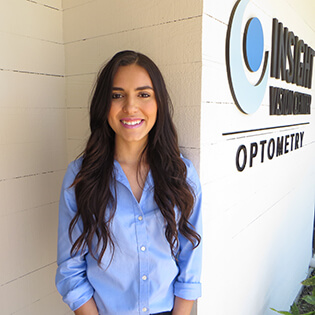 Solange Gil
Optometric Assistant
What's your journey that brought you to Insight Vision Center Optometry?
From a young age I knew I wanted to be involved in helping other people live better lives. As I entered college at Cal State Fullerton I knew that pursing a career in the health professions would fulfill my desire in helping others. I became interested in optometry after an annual eye exam, and that is when I decided to join my schools pre-optometry club and become more informed. My first experience in the pre-optometry club was a volunteering event, which involved assisting doctors of optometry in providing free eye exams to the homeless and underserved families within Santa Ana. This experience was extremely inspiring to me because it made me realize how important vision care can be and how impactful it can be in improving a persons quality of life. From that moment I knew I wanted to pursue a career in optometry. Insight Vision Center Optometry has given me the opportunity to begin my journey in pursuing my career goals, as well as my desire to help others.
What do you love most about your job?
What I love most about working at Insight Vision Center is working with a wonderful group of staff and doctors that love to help others and strive to always give the best quality of care to patients. I truly enjoy coming to Insight Vision Center every week because I get to learn more about the work of an optometrist and I get the opportunity to improve people's lives through vision care!
---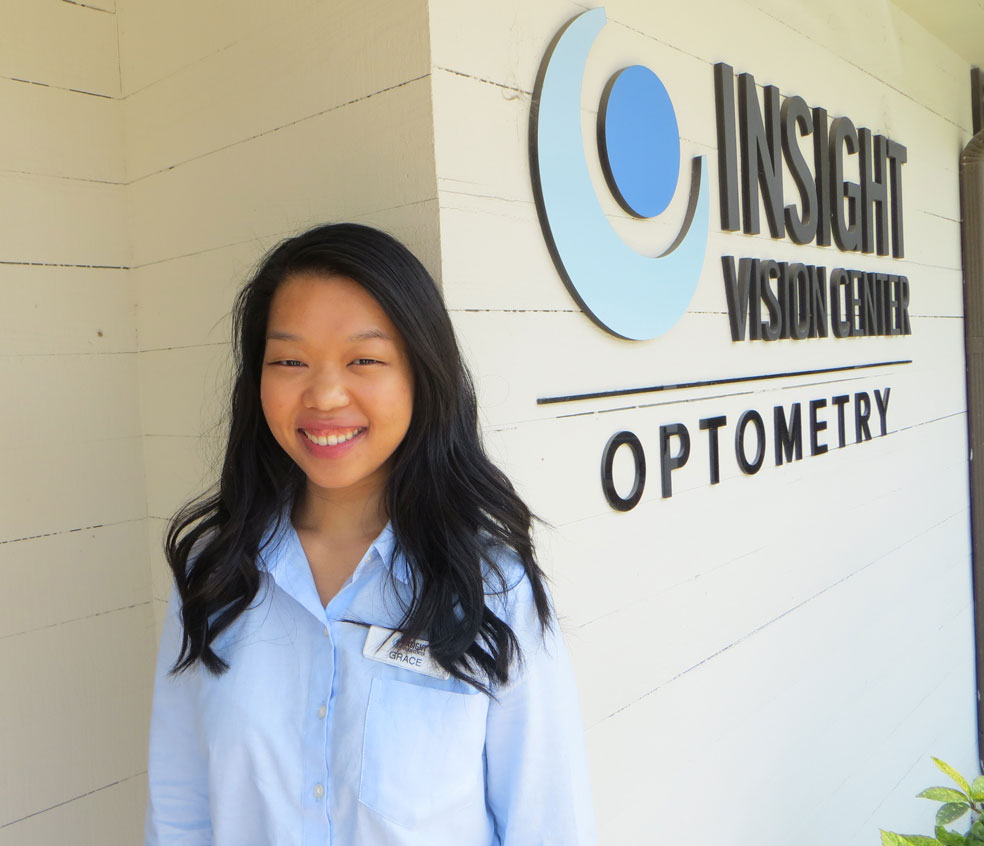 Grace Wan
Vision Therapist
What's your journey that brought you to Insight Vision Center Optometry?
My journey to Insight Vision Center Optometry has been an exciting and unexpected one. I graduated from the University of Arizona with two bachelor's degrees – one in Religious Studies and one in Communication. I moved after finishing college from my hometown Gilbert, AZ to the big city: Los Angeles. For a year I interned with an Asian American Christian Organization where I worked with college students. After that, I decided to take a leap of faith and step out into the workforce, with the same passion and desire to help people in a tangible way. The years before coming to Insight, I dabbled in restaurant business, caregiving, and eventually found myself working at a Lasik eye center where I first gained exposure to the world of optometry. It was there that I gained a great appreciation for clear vision and also wanted others to experience the same thing. A year after working there, I was blessed with the opportunity to join the Insight Vision Center team where I am continuing to learn more about optometry and vision therapy. Coming here has helped me to discover my passion for vision therapy. I love being able to work closely with our patients, playing games and doing fun activities that are actually helping them improve their vision. I look forward to learning, growing, and helping people improve their eyesight so they can love the way they see!
What do you love most about your job?
I love going into work knowing that I am playing a part in helping someone improve the way they see. Dr. Mai, Dr. Lam and all the staff members are driven by their desire to put the patient first, and it is evident in the way they work, interact, and care for them. I love coming into work knowing that each day will be different, filled with various wins and challenges. I'm so thankful for my team and Insight Vision Center! It is a fun and exciting place to work at and I am looking forward to growing with this team!
---
Learn More How Our Optometry Team Can Help You. Contact Us, Today!
Our team of professional eye doctors and friendly staff are here to care for all of your vision needs. Give us a call at (714) 486-3315 or click here to schedule your consultation with one of our eye doctors. We are always eager to help!
Insight Vision Center Optometry serves Costa Mesa CA, Irvine CA, Newport Beach CA, Santa Ana CA and Huntington Beach CA.