Our Valuable Team Members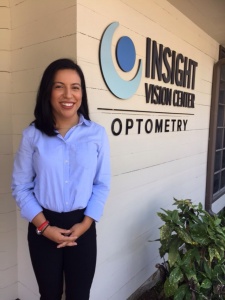 Kristy Figueroa
Optician
What's your journey that brought you to Insight Vision Center Optometry?
As an undergrad at UC San Diego, I explored many career fields, but found myself very intrigued by the health care professions. At my very first annual eye exam I had the opportunity to really gain a full understanding of what the field of optometry is. My doctor at the time really loved what she did and it was very apparent. I attended UCSD with the intention of completing requirements for optometry school. I had an incredibly fulfilling experience in college as I was very involved in student affairs, volunteered, and shadowed an optometrist all while completing my degree in General Biology. My path took me into an initial career in Higher Education, but most recently I decided to venture back to my initial goal of working in the optometry field. Insight Vision Center has provided me the incredible opportunity to fully appreciate and continue my journey to my ultimate career goal of becoming an optometrist myself one day.
What do you love most about your job?
It is an incredible feeling coming to work knowing you will make a difference in the way someone sees the world. I love that Dr. Mai, Dr. Lam, and the staff genuinely love what they do and are always making sure expectations are exceeded with every patient that walks through the door.
---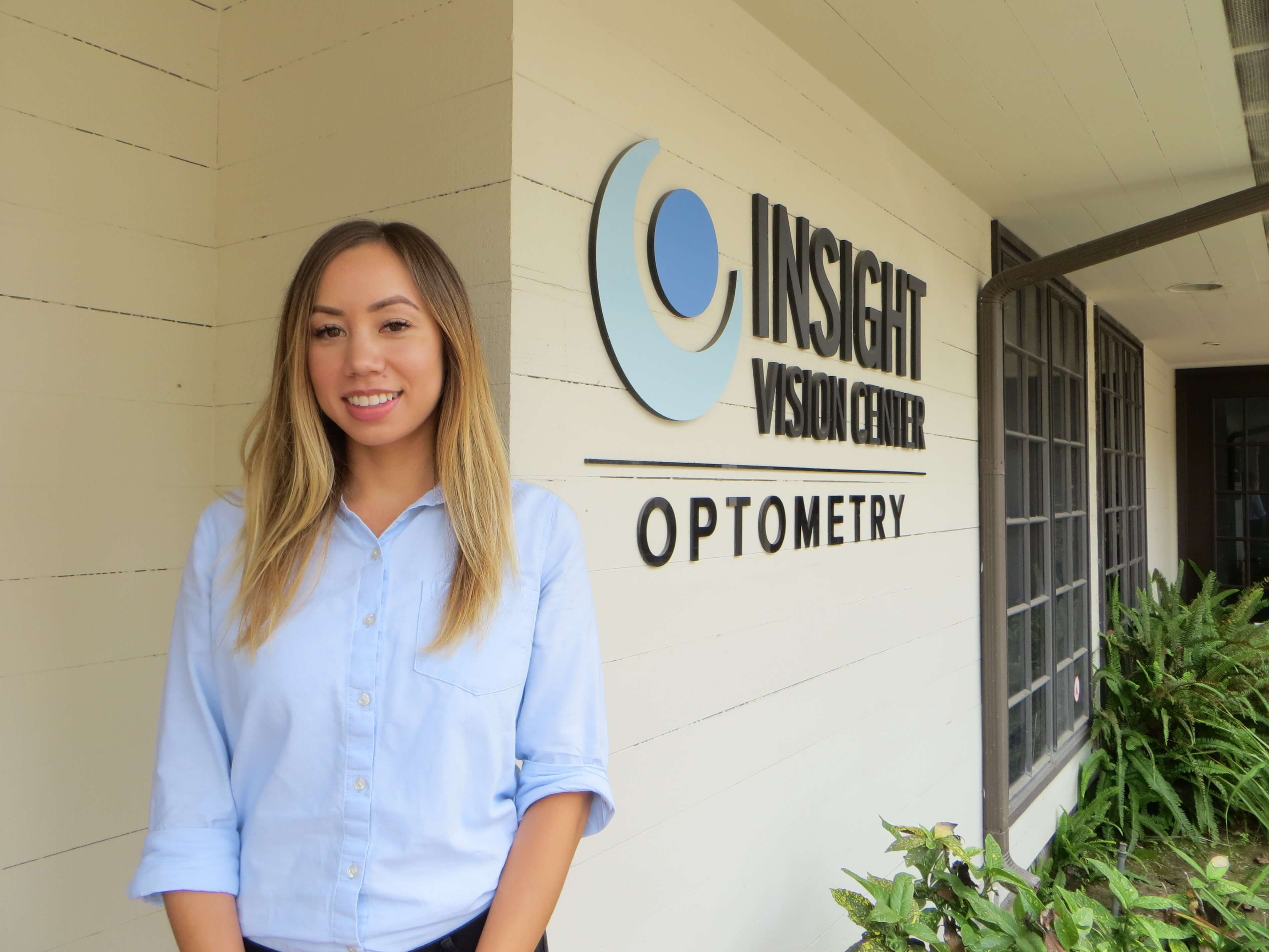 Allison Andrews
Optometric Assistant
What's your journey that brought you to Insight Vision Center Optometry?
I started off my college career as a piano performance major which gave me the opportunity to teach piano at a local piano school. It was here that I realized how much I love working with kids and having the opportunity to benefit a person's life. Although teaching has been a rewarding experience, I still felt motivated to be able to do more for people. It was this motivation that guided me to pursue a biology degree, which I am currently working on at Cal State Fullerton. After shadowing doctors and learning more about the field of optometry through the CSUF pre-optometry club, I realized that optometry was the right fit for me. Becoming involved in the pre-optometry club, as well as being an executive board member, gave me the opportunity to meet fellow members of the optometry community. Along with my experience at Insight, I am also working with a nonprofit organization that provides vision services to the underserved community. These experiences taught me how much better you can make someone's life by giving them the gift of better vision.
What do you love most about your job?
I love how caring and passionate everyone is at Insight Vision Center. Dr. Mai and Dr. Lam are some of the most kind-hearted people I have ever met with an incredible amount of knowledge and an endless desire to be of service. I also love that we are a family friendly office and I get to work with kids of all ages!
---
Mina Saleh
Optometric Assistant
What's your journey that brought you to Insight Vision Center Optometry?
Born and raised in the South Bay, I was charmed by the diversity of my neighbors and the experiences this area provided. The love I had for the people around me was inspiration to give back to my community in the best way I could. Growing up, I felt proper healthcare was a necessity for every person. Therefore, I majored in Psychology while attending UCI, which offered the skills to implement positive societal changes through knowledge, empathy, and compassion.
I continued to explore other fields in healthcare after graduation, and soon discovered my passion for optometry when I was diagnosed with vitreous humor detachment. This, coupled with my strabismus/amblyopia that I had left untreated since childhood, helped me realize the importance of vision. I felt empowered to help people gain access to proper vision care. Because of its reputation, I decided to work at Insight Vision Center. Here, I get to experience the dedication the doctors and staff display for their patients with the same goals as my own. I feel blessed to be involved with the Insight team and directly help our community for the better!
What do you love most about your job?
I am so proud to say that patients of all ages and backgrounds can feel confident with our care. By the end of the appointment, patients will leave knowing they are being guided towards the treatments and opportunities that are best for them!
---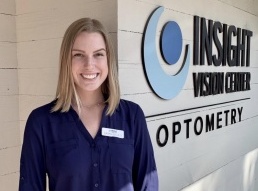 Laura Belle Morel
Optometric Assistant
What's your journey that brought you to Insight Vision Center Optometry?
I am a graduate from the University of California, Irvine with a major in human biology and a minor in medical humanities. My journey began when I joined the panhellenic sorority, Delta Gamma, whose philanthropy is "Service for Sight". Through Delta Gamma, I helped raise funds and awareness for all types of eye/vision related impairments. I volunteered with the Blind Children's Learning Center where I witnessed how essential vision is in day to day life. This inspired me to pursue optometry, as I want the opportunity to improve the lives of people with visual impairments. I have shadowed in an array of optical fields including optometry, ophthalmology and LASIK surgery. Insight Vision Center has been an incredible opportunity for me to learn more about optometry and Dr. Mai and Dr. Lam's specialties in the field. They have been great mentors providing me with support and guidance for pursuing optometry.
What do you love most about your job?
I love working at Insight Vision Center because it is an environment where I am constantly learning. As a pre-optometry student, I am confident in my future pursuing optometry due to my experiences at Insight Vision. I love being surrounded by such supportive staff that always go the extra mile to ensure our patients get the best care.
---
Nhi Nguyen
Optometric Assistant
What's your journey that brought you to Insight Vision Center Optometry?
While pursuing my degree in Biological Sciences at the University of California, Santa Barbara I knew I wanted a career in healthcare but wasn't sure which field was the best fit for me. It wasn't until one night when I was researching different professions when I took a look at my glasses and decided to look into the field of optometry! Like many people, I've struggled with myopia or nearsightedness for most of my life. I was prescribed my first pair of glasses at 10 years old and wore my first pair of contact lenses at 15 years old. Needless to say, my optometrist has played a huge role in my life.
During my last two years of college, I served as secretary and academic chair of the pre-optometry club. I shadowed doctors and volunteered at the Santa Barbara Braille Institute where I assisted with services for the blind and visually impaired. I also assisted with vision screenings as a member of the Goleta Lions Club and took part in the eyeglasses recycle program, where eyeglass donations are refurbished and distributed to countries to help those in need. The impact I was able to make by serving the community fueled my passion in helping others achieve what my optometrist made possible for me — a better quality of life through better eyesight. I worked as an optometric technician at a private practice for a year and ultimately solidified my decision in pursuing optometry. After moving back home from college, I stumbled across Insight Vision Center Optometry and was fascinated by the doctors' specialties in vision therapy and treating keratoconus. Thus, I took the opportunity to continue my growth and experience with the doctors at this office and have loved every minute of it since!
What do you love most about your job?
Dr. Mai, Dr. Lam, and the staff here at insight vision center go above and beyond to put a smile on every patient. I love that our passion in helping patients to "love the way they see" is reflected in their satisfaction every time they leave our office. I also appreciate that the doctors take the time to share their expertise with me so I am always learning and growing as a pre-optometry student. The knowledge and skills I've acquired here definitely make me feel prepared for what lies ahead in pursuing my future career as an optometrist.
---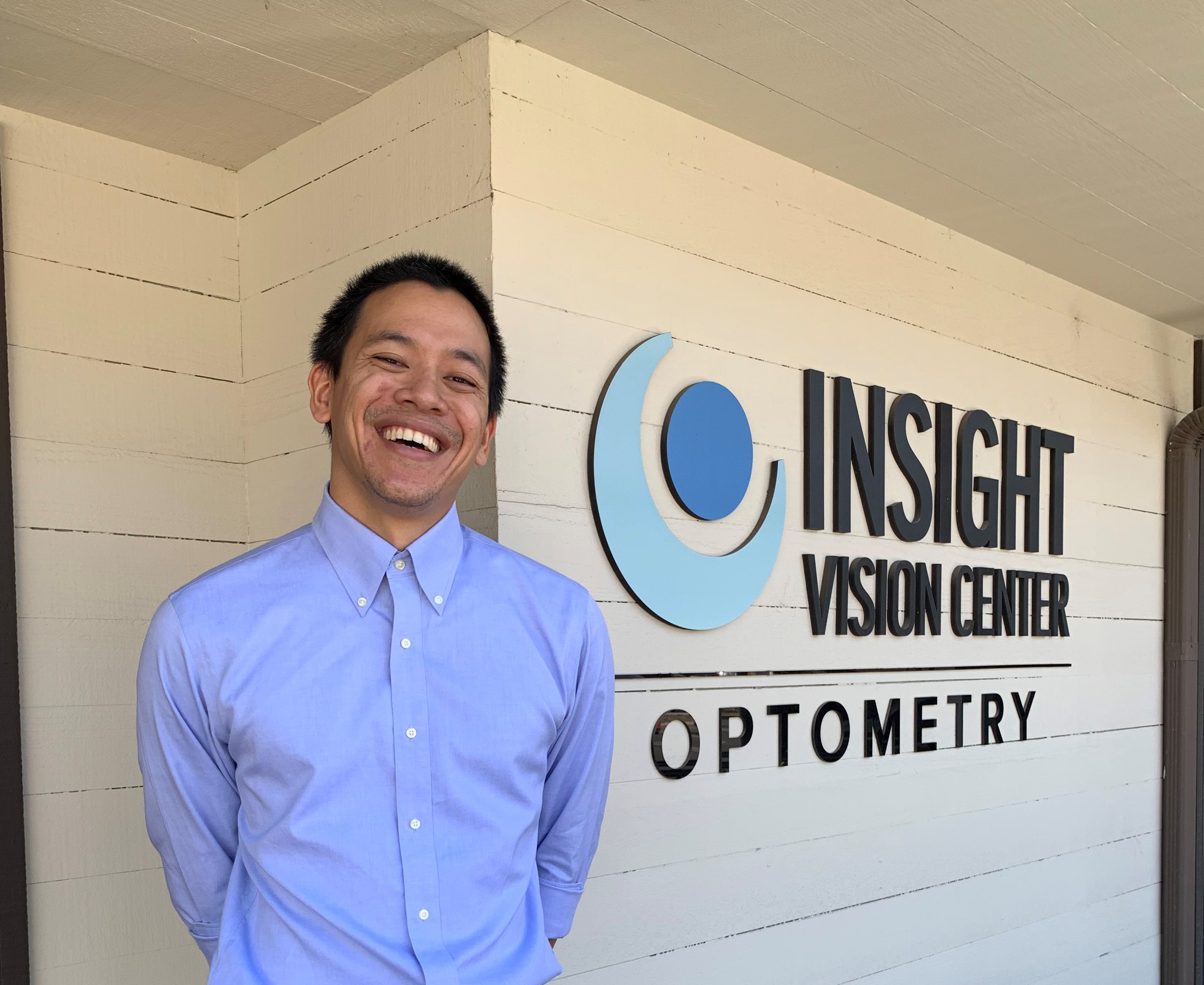 Kalvin Le
Optician
What's your journey that brought you to Insight Vision Center Optometry?
My non-traditional route into the optometric field began while I was a student at Cal State Fullerton pursuing a degree in sociology. While in college, I put a lot of time towards volunteer work and saw the benefits of helping others in need. At the time, I wasn't sure on what I wanted to pursue with my future career. Originally, I had intended to go into social working. After a few different career paths, I found a love for assisting others and the excitement of seeing happy customers. Fast forward a few years, while working as an Inside-Sales representative at DITA Eyewear, I realized how much I enjoyed optics and how a simple pair of glasses could play such a huge part in ones' life. I had worn glasses my whole life and understood how important healthy vision is to living an encompassing life. It was then that I found the perfect path to tie in my passions of serving others and being around eyewear. Insight Vision Center has been a remarkable experience and has blessed me with an opportunity to learn under both Dr. Mai and Dr. Lam's wing.
What do you love most about your job?
I have a high respect for customer service and how people are treated everyday. Working at Insight Vision Center has been amazing as both doctors and everyone on the team put an emphasis on every patient and their needs. I love that everyone is more than welcome to assist every patient and makes sure they leave our practice with a smile on their face. It's an indescribable feeling being around a team whom treats every staff member and patient as family.
---
Learn More How Our Optometry Team Can Help You. Contact Us, Today!
Our team of professional eye doctors and friendly staff are here to care for all of your vision needs. Give us a call at (714) 486-3315 or click here to schedule your consultation with one of our eye doctors. We are always eager to help!
Insight Vision Center Optometry serves Costa Mesa CA, Irvine CA, Newport Beach CA, Santa Ana CA and Huntington Beach CA.