Insight Vision Center Optometry: Meet Our Eye Doctors
Our Eye Doctors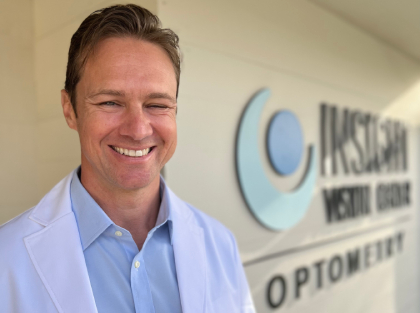 Dr. Nathan Schramm, O.D., FSLS
Scleral Lenses, Specialty Contacts for Irregular Corneas, Myopia Management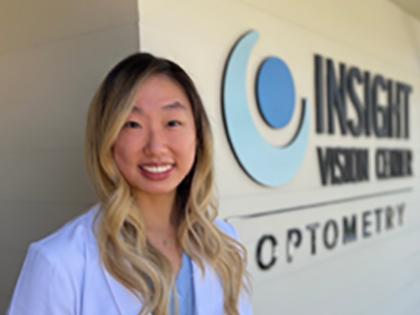 Dr. Ariel Chen, O.D.
Primary Eye Care, Contact Lenses, Myopia Management, Vision Therapy, Medical Eye Services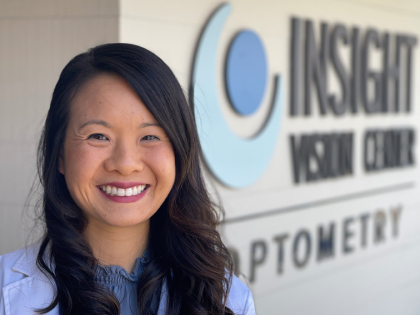 Valerie Lam, O.D.
Vision Therapy, Traumatic Brain Injury, Myopia Management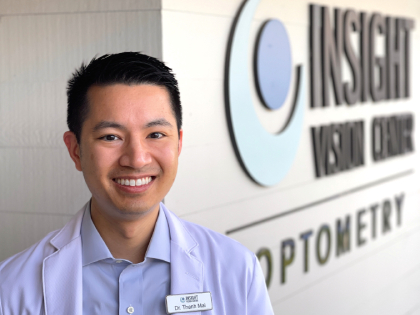 Thanh Mai, O.D.
Scleral Lenses, Specialty Contacts for Irregular Corneas, Myopia Management
---
Dr. Nathan Schramm, O.D., FSLS
Scleral Lenses, Specialty Contacts for Irregular Corneas, Myopia Management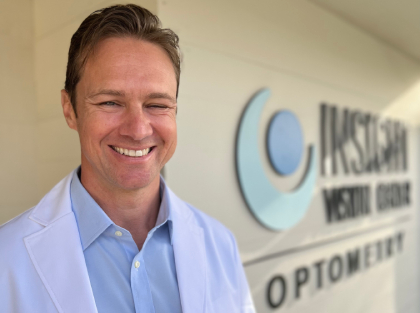 Dr. Nathan Schramm's passion is helping patients with severe corneal conditions (keratoconus/post LASIK ectasia) and preventing myopia (nearsightedness). He is one of 250 fellowship-trained ocular prosthetic (scleral) specialists and became the first of three Certified Nutrition Specialists with an Optometry degree, which he obtained from Nova Southeastern University in 2008.
Dr. Nate is an accomplished optometrist, teacher, writer, and key opinion leader. He organized the first congress dedicated solely to ocular prosthetics, the International Congress of Scleral Contacts, now a yearly event. He contributed to a 2019 Ophthalmology textbook's chapter on scleral lenses and has written for Advanced Ocular Care, Collaborative Eye Journal, Contact Lens Spectrum, and Natural Awakenings.
At various optometry and ophthalmology conferences, Dr. Schramm has taught thousands of doctors about nutrition and scleral lenses in China, India, and the United States. Part of his medical training occurred in China, so he prefers to use a holistic approach to eye care.
What do you love about your job?
I genuinely love my job because it's a perfect intersection of what the world needs, what I'm good at, and what gives me passion. The best part of my day is fitting a visually impaired patient with specialty lenses and witnessing their awe at how they can now truly see the world. In addition, I take great joy in treating poor vision in children to create a lifelong impact using advanced myopia control techniques.
How are you involved in the community and what do you hope to contribute to the future?
I donate blood several times yearly; I'm B Positive, like my personality. I became an eye doctor because my grandfather, who raised me like his son, developed an incurable eye disease. I want to continue to educate my eye doctor colleagues on how best to help their patients with irregular astigmatism and complicated corneal conditions.
What's an interesting fact about you? What are you doing when you're not checking eyes?
In my early 20s, I was a personal trainer, so this is one of the reasons why I discuss diet and exercise with my patients. Many people are unaware eye health can be impacted by these things. Another interesting fact is I saved a nun's life and received a congressional commendation. When I'm not fixing eyes, I work out daily with either yoga or high-intensity interval training like CrossFit. Intermittent fasting and extended water-only fasts keep me mentally balanced and appreciative. I love spending time with my wife, Julie, and our Siberian Husky, Sasha.
---
Dr. Ariel Chen, O.D.
Primary Eye Care, Contact Lenses, Myopia Management, Vision Therapy, Medical Eye Services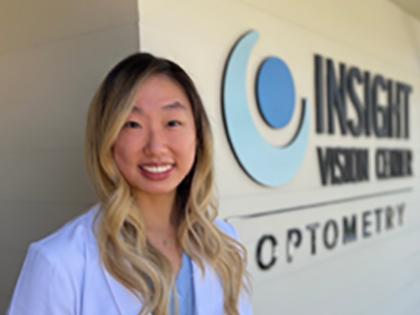 Dr. Chen is excited to take care of her patients through annual comprehensive eye exams, specialty contact lenses, vision therapy, and ocular disease management. She enjoys educating her patients on preventative care such as myopia control treatments and keeping them up-to-date on the latest innovations in the field of optometry. Dr. Chen understands and emphasizes the importance of high-quality eye care and strives to ensure her patients receive just that.
I received my first pair of glasses at the young age of 4 years old. They were these small pink circle glasses and I was amazed by how different the world looked and even more amazed by how excited my parents were. The first time I tried contact lenses, I teared up in excitement as I could finally eat a hot bowl of beef noodle soup without my glasses fogging up. Seeing how much eye care could affect my life led me down the path of dedicating my educational career to becoming an optometrist. I studied at the University of California, San Diego where I graduated with a major in biology and a minor in psychology in order to become a well-rounded doctor. During my time at Southern California College of Optometry, I trained under doctors at the military hospital, veterans hospital, Indian health reservation hospital and private practice clinics. After graduating, I was ecstatic to become part of a clinic that practiced optometry to its full scope and prioritized its patients' needs above all else.
Through the years, I've personally experienced many ocular problems including dry eyes, eye strain, nystagmus, and even retinal tears. I quickly learned the importance of taking care of your vision at a young age and continuing to care for your eyes throughout your life. Using my own personal experience and my expertise as an optometrist, I aim to help my patients feel comfortable and cared for as they navigate through their vision health journey.
What do you love about your job?
I love the long-lasting relationships we form with our patients. It's truly an amazing feeling to see our patients grow and share stories about their lives every year. Nothing is more rewarding than seeing the positive impact of our care and dedication. The scope of optometry has rapidly grown in the last few years, allowing us to better support our community. Whether it's a journey through improving their ability to study through vision therapy, implementing myopia control for preventative care, or helping them see clearly for the first time in years with our special scleral lenses, I am honored to be part of a team that is always motivated to provide the best care and experience.
How are you involved in the community and what do you hope to contribute to the future?
Through undergraduate and graduate school, I volunteered with local clubs, providing vision screenings to schools and underserved communities. School screenings are an important way of identifying children who may need additional help with their vision before it hinders their educational journey. I also had the opportunity to provide care to underserved areas in Tecate, Mexico. Donating glasses and contact lens solutions have had a huge positive impact on these smaller communities. Over the summers, I enjoyed volunteering with local no-kill dog shelters where we would take care of abandoned dogs and get them ready for the adoption process.
Going forward, I would love to become more involved in the Orange County community by participating in the Orange County Optometric Society, which will allow me to remain up-to-date
on the latest optometric innovations. I am also open to serving as a resource for those who are interested in becoming a healthcare provider through mentorship!
What's an interesting fact about you? What are you doing when you're not checking eyes?
I love writing short stories in my free time so look out for my future New York Times Bestseller! I also enjoy running and hiking in the beautiful nature all around us in Southern California. My closet is full of board games and my most recent obsession is Mahjong. The recipe for a happy Dr. Chen is boba, coffee, tacos, and the occasional soft serve ice cream with a taiyaki fish on top by the ocean.
---
Valerie Lam O.D., F.A.A.O, F.C.O.V.D
Vision Therapy, Traumatic Brain Injury, Myopia Management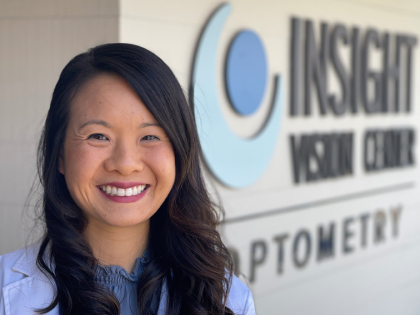 Dr. Lam is passionate about treating vision problems that interfere with children's ability to read, learn, and pay attention. Some common conditions that she treats are convergence insufficiency, reading difficulties including tracking problems, double vision, lazy eye (amblyopia), and crossed/wandering eyes (strabismus). She also treats vision problems that result from a traumatic head injury, surgery, or concussion. Dr. Lam provides non-surgical treatment to these conditions through Vision Therapy, a custom program of exercises to strengthen the eyes and brain to eliminate vision problems. She completed her Pediatrics and Vision Therapy residency at the Southern California College of Optometry, at Marshall B. Ketchum University. She then pursued her fellowship from the American Academy of Optometry and the College of Optometrists in Vision Development.
When I graduated from UC San Diego, I knew that I wanted to work in the healthcare field because I wanted a profession that was about serving other people. Optometry was the right fit because I get to help people love life through the way they see. I achieved my doctorate degree from the Southern California College of Optometry at Marshall B. Ketchum University where I got experience working in all types of settings including an Indian reservation (lived in the middle of the desert for 3 months!), low income schools, low vision clinics, and a surgery center. I completed a residency in Pediatrics and Vision Therapy at SCCO because I wanted to become an expert at treating children and helping them to overcome vision related learning problems that were causing them to struggle in school.
Learn more about Dr. Lam
What do you love about your job?
I love that being an optometrist allows me to connect with patients on a very personal level, not only talking about their vision issues but even just sharing a part of their life. My passion is working with kids because they always bring out the joy in you, even on a rainy day — I love doing vision therapy because it allows me to use my creativity to design new activities that are engaging and exciting for our patients. Most of all, I love seeing patents succeed and get better, and it fulfills me knowing that I was able to be a part of their success!
How are you involved in the community and what do you hope to contribute to the future?
At Insight Vision Center, we love to give back. We've attended international mission trips to help provide vision care in under served countries. We also enjoyed volunteering at the Special Olympics, doing eye exams for special needs athletes. One of our passions is mentoring pre-optometry students and we always welcome them into our office to share our knowledge of the profession. We've been frequent guest speakers at the local optometry schools, sharing with aspiring optometrists about our journey and encouraging them to go out and make a difference.
What's an interesting fact about you? What are you doing when you're not checking eyes?
I am married to my childhood best friend whom I've known since I was 2 years old and we have 3 adorable kids! When I'm not at Insight, I'm working my other job of being mom and spend my time cooking dinner, taking kids to sports and dance lessons, and playdates at the park.
---
Thanh Mai, O.D., F.S.L.S.
Scleral Lenses, Specialty Contacts for Irregular Corneas, Myopia Management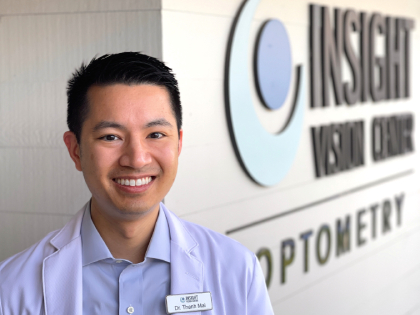 If you need a contact lens to fit right so you can see your best, there is almost no one on this green earth better than Dr. Mai! In particular, he works with patients suffering from corneal diseases such as keratoconus, pellucid marginal degeneration, and damaged corneas from refractive surgery or corneal transplants. Because he is highly nearsighted himself, he has a passion for myopia management with orthokeratology and other methods to slow or stop the progression of myopia in children. He lectures all around the country teaching other doctors these specialties. He aspires to be a YouTube star helping patients here at https://www.youtube.com/@Insightvisionoc
Learn more about Dr. Mai
What do you love about your job?
Being an optometrist is great! If you are reading this and have a son or daughter interested in the healthcare profession I whole-heartedly recommend optometry and welcome them to shadow us at the office or chat over lunch (my treat). The best part of the job is working with patients where you can solve a vision problem that can really impact their lives. Money can't buy the feeling you get when you can improve someone's life. In my experience, it's my patients with keratoconus, past radial keratotomy and LASIK damage whose lives I impact the most. It's my life's mission to help these patients achieve the lifelong vision that they need.There are so many undetected visual problems that can interfere with learning and with life in general. If you can have your hand in correcting these deficiencies you can really change someone's life. Lastly, I love working with all the doctors and staff at Insight, we have a really special team!
How are you involved in the community and what do you hope to contribute to the future?
Insight Vision Center plans to partner in the community with all the residents and local businesses of Orange County. I am a past president of the Orange County Optometric Society which helps me to stay up-to-date with all the latest changes to our profession and promote involvement in community service events. I love teaching students at Marshal B Ketchum how to be the best darn optometrists they can be on top of helping my colleagues at Vision Source. Check out our own blog for the latest information about vision therapy, orthokeratology, and scleral contact lenses.
What's an interesting fact about you? What are you doing when you're not checking eyes?
I just started to learn golf and it's a TOUGH sport to master. You'll find me hacking away and trying to stop slicing the ball. I love playing board games and spending time with my wife and I have 2 kids (son then daughter). You'll also find me at the Rose Bowl during the football season cheering on my UCLA Bruins or at Pauley Pavillion staring at John Wooden's statue.
---
Schedule an Eye Exam with Us Today!
At Insight Vision Center Optometry we believe in individualized eye care. This means all treatment options are geared toward addressing your particular vision and eye health concerns ensuring you receive exactly what you need.
To learn more about us and what we can do for you, just give Insight Vision Center Optometry a call today at (714) 942-1361 or click here to schedule an appointment with one of our eye doctors.