If you are reading this, you've already heard the news that you have keratoconus. Or perhaps a close loved one has keratoconus. So where do you begin and what do you do about it? Well this FAQ is designed to hold your hand and walk you through life dealing with keratoconus, what you can expect, what you should do about it, and how you can go on living your life. Blindness is not inevitable. Let us be clear about that! If you are proactive and seek the right care there can be minimal impact on your life.
The purpose of this FAQ is to teach you the unbiased truth about keratoconus outside of the doctor's exam room. Often times if you go to an eye surgeon they will recommend surgery. On the other hand, if you go to a contact lens specialist they will recommend contact lenses and discourage surgery. It's frustrating as a patient to know who to believe and that's why this FAQ was designed to cut through all that and give you frank and honest information looking at all treatment options and their pros and cons. So let's get right to it.
What is keratoconus?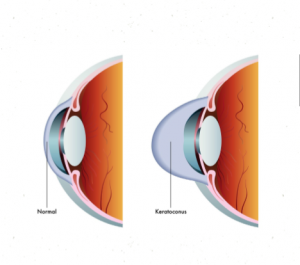 Before we go over treatment options, you need to understand what you're dealing with. Keratoconus refers to the fact that the front part of your eye, the cornea, will start to bulge forward. Keratoconus loosely translates to "cone-shaped cornea". We first heard of patients with keratoconus in the early 1700s from Benedict Duddell who wrote, "A Treatise of the Diseases of Horny-Coat of the Eye." Count your blessings that we have so many great ways to treat keratoconus these days as compared to the 1700s.
In eyes with keratoconus, free radicals and collagen instability damages the support structure responsible for retaining proper corneal shape. (1) This causes the normal and rounded cornea to take on an irregular form where usually the bottom portion of the cornea starts to thin and bulge the most People of all ages and races can develop keratoconus, although we usually see patients begin to develop keratoconus in their late teens or in the early twenties.(2) Patient usually will report normal vision growing up until it gradually begins to worsen.
There also exists another corneal condition called Pellucid Marginal Degeneration that has a very similar cause and also causes the cornea to take on an irregular shape. Anything that changes the shape of the cornea will ultimately affect clarity of vision. After a while, glare worsens and you usually become more and more nearsighted as time goes on. We understand how devastating it can be because prior to the onset of keratoconus, you probably had perfect to normal vision until one day it just rapidly started declining and you couldn't figure out why.
Who gets keratoconus?
Research used to say that one in 2000 people develop keratoconus.(4) However that study was conducted many years ago and currently we believe it may be closer to 1 in 500. It almost always affects both eyes, though the severity can vary and usually manifests more prominently in one eye over the other. According to the Collaborative Longitudinal Evaluation of Keratoconus Study there appears to be no ethnicity that is more prone to developing keratoconus than any other group.(6)
In our practice, we find a variety of patients from all ethnic backgrounds develop keratoconus. Most studies agree that males are more likely affected than females. Some other associations with an increased prevalence of keratoconus are patients who wear contact lenses, rub their eyes excessively, have eye allergies, or those who live closer to the equator. Having someone in the family with keratoconus greatly increases the risk that you may develop keratoconus. If you have a family member with keratoconus, it is imperative that you and everyone in your family get checked for the disease as well. Research shows there is a 1 out of 10 chance that a blood relative will have keratoconus if you have it. The sooner you discover you or a loved one has keratoconus, the sooner you can pursue treatment options as well as preventative measures. In this case, the old adage "an ounce of prevention is worth a pound of cure" is certainly applicable.
What are the symptoms of keratoconus?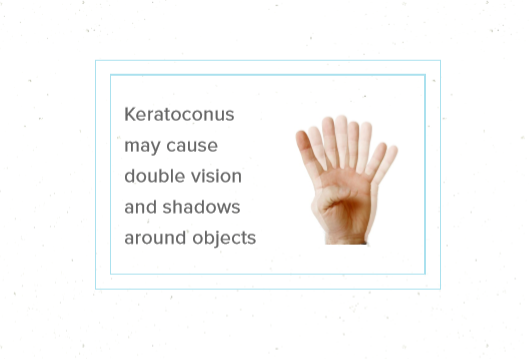 The most obvious one is blurred vision. Now this isn't the typical blurred vision that a normal patient who just needs glasses might experience. Usually patients with keratoconus will develop extreme myopia (nearsightedness) with very high irregular astigmatism. This causes their vision to be much more distorted than just normal blur.
Plus there are much more glare and halos at nighttime. Words tend to have shadows around them or even look double. If scarring of the cornea has occurred secondary to keratoconus, then there is increased haziness and a decrease in contrast sensitivity. Additional symptoms are due to a crazy phenomenon known as, "high order aberrations" that come from an abnormal cornea. These will cause ghosting, shadows, and overall distortion to your vision that a simple pair of glasses or soft contact lenses cannot treat.
Normal glasses or contact lenses unfortunately cannot do much to help correct these high order aberrations. We get it — it's frustrating! We hear it almost everyday from our patients with keratoconus. If your vision seems off, even if you can read the 20/20 line although not very clearly, then keratoconus may be the culprit stealing your vision away.
An unfortunate drawback of a weakened cornea is that scarring can occur. Once scarring occurs, it is more challenging to correct your good vision. Your cornea is supposed to be crystal clear in order for light to pass through it easily. If there are areas of scarring, spots of your cornea will now be clouded which blocks light from passing through to the retina. When this occurs, your treatment options can be severely limited until the only hope is to get a corneal transplant and replace the parts of the cornea that is clouded.
Life with keratoconus
Life with keratoconus can be challenging. Many patients avoid disclosing they have vision problems to their loved ones. One of the most nerve wracking situations is when you have to take the vision test at the DMV to get your driver's license. Or you have to go for a job interview and you are required to take a health examination in order to get hired. What will your potential employer think if they only knew you could not see the computer screen that well? But you need this job to support your family and in all other areas you are perfect for the job? If only you could see better.
This is what life is like for patients with keratoconus. They are often young and just starting out their careers and families. Many are driving without licenses or with expired driver's licenses because they cannot pass the vision test.
The good news is that it does not have to be this way and that patients with keratoconus can go on to live normal lives just like any other person with good sight. You just need the proper treatment in order to get good vision back. Unlike centuries ago where nothing could really be done once you were diagnosed with keratoconus, now many treatment options exists that can correct many keratoconus patients back to 20/20. DMV licenses can be legally issued with just a special form once your vision is restored. And with the correction, you may be able to see your computer screen again and work just as fast (if not faster) than your co-worker sitting next to you.
Understanding the topography — "The island in the ocean"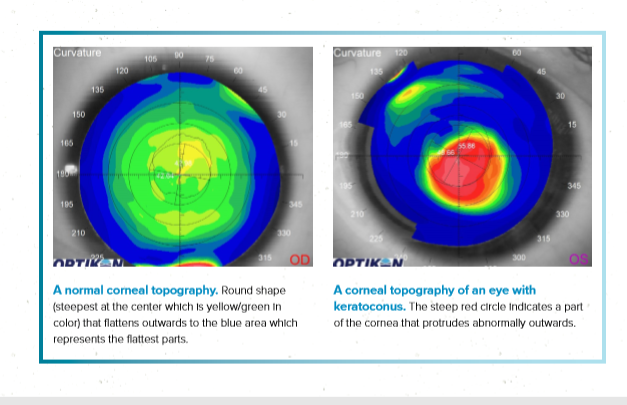 When you were diagnosed with keratoconus, your eye doctor probably took what was called a corneal topography reading. This machine has the amazing ability to noninvasively measure the front surface of the eye, specifically the cornea. By casting reflections of circular images we call "mires" onto the front surface of your eye the machine can then uses an algorithm to measure how curved the front surface is and where are the irregularities.
A great way to understand a topography is to think of the blue color like the ocean and anything green/yellow/orange/red to be the island or land that is sticking up above the ocean. A normal cornea will be a very smooth round island that is not very high or steep. It is often yellow or green color indicating that the land (your cornea) is a very even and rounded.
On the contrary, an eye with keratoconus will have a very pointy volcano in the middle of the island which is that red bulge that is produced in the area where the cornea is thinning. This is often highlighted by areas of red or orange. This represents a very irregular shape with a steep portion of the cornea in the lower inferior region.
Keratoconus is progressive
We must keep in mind that keratoconus is a progressive condition. Unfortunately, an eye with keratoconus is a changing eye and there is no accurate way to predict how fast it will change and how severe it will progress. It is our hope that eventually the condition will slow down and will not worsen beyond a certain point- but do we take our chances as to when we hope that might happen?
Even when the vision is best corrected with glasses or contact lenses, it is important to remember that keratoconus can still progress and worsen. It is not uncommon that a prescription that worked wonderfully one year, will suddenly be not as sharp the next year. Regularly scheduled eye examinations are vital to ensuring clear and comfortable vision.
In addition, we will need to discuss preventative procedures that protect one's vision.
How do you treat keratoconus?
"Okay doc, now that I understand all about keratoconus what are we going to DO about it!?" Great question. The first step is to start seeing better and then to keep it that way.
NON-SURGICAL TREATMENTS FOR KERATOCONUS
We'll start this discussion with the least invasive and most common treatments first and then end with the more complicated technologies. I would be wary of any professional who immediately recommends the most invasive surgical treatment options without reviewing with you why the least invasive treatment methods would not work. They may be correct, but let's make sure you have done your due diligence first with non-surgical treatment options for keratoconus.
Eyeglasses
In very early cases of keratoconus the usual eyeglasses can certainly be good enough. But if eyeglasses were helpful, chances are you wouldn't be reading this since you've already found your answer at any number of regular eyecare offices. Eyeglasses can correct for normal nearsightedness, farsightedness, and astigmatism but remember that keratoconus causes high order aberrations that are not treated well through traditional means. Still, we do recommend nearly all keratoconus patients have a pair of glasses because it often helps marginally enough to be able to see in emergency situations.
Soft Contact Lenses
There are some patients who can achieve wonderful vision with a soft contact lens. If lucky, the average soft contact lens that normal corneas can wear will give decent enough vision. More often however, we need to resort to custom soft contact lenses such as the KeraSoft from Bausch and Lomb or NovaKone from Alden Optical to get those higher powers that are typical in keratoconus eyes. Soft contact lenses tend to work better in milder cases of keratoconus but once the condition becomes more advanced, a contact lens made of rigid material will likely be needed. This is because as keratoconus becomes more severe, soft contact lenses do not sit very stable on the eye nor do they smooth out the surface enough to produce a clear image. A rigid lens creates a tear film between the contact lens and the cornea which helps to treat your vision.
Rigid Gas Permeable lenses (RGPs)
Rigid Gas Permeable lenses (RGPs) are small, rigid contact lenses also known previously as "hard lenses." This has been the bread and butter for decades to treat keratoconus prior to the development of other contact lens technologies. It can still be very effective and many older generation keratoconus patients continue to wear these lenses successfully. RGPs can help to correct those higher order aberrations and drastically improve vision over glasses.
The major drawback of RGPs is definitely the initial comfort of the lenses. There is lens awareness (meaning you can feel the lenses as you blink) and often the eye's first response to the lenses will be some excessive tearing. That does not mean that the lenses are impossible to wear however and many patients have adapted to the feeling of RGPs and successfully wear them to this day! However, realistically speaking it does take quite some time to adapt to the feeling of wearing these RGP lenses but the amazing clarity of vision is worth the effort.
RGP lenses can be fit a variety of different ways. Either doctors will use a fitting set or they can custom design the contact lenses after taking measurements of your eyes. It is not uncommon however for it to take multiple visits and multiples lenses in order to settle on the final one. Keratoconus makes fitting contact lenses much more tricky and these lenses have to fit like a glove in order to give you the best comfort and vision.
Piggybacking a Rigid Gas Permeable Lens on a Soft Contact Lens This is not routinely done but worth mentioning because some patients still use this modality of contact lense wear. This system involves wearing a gas permeable lens (RGP) on top of a soft contact lens. The soft contact lens is supposed to help to improve the comfort and produce a more stable foundation for the RGP lens to sit on top. Ultimately, you are wearing two contact lenses on top of each other in this system.
Hybrid Contact Lenses
These contact lenses consist of a rigid gas permeable lens in the center with a soft skirt (soft contact lens) attached around the edges. The lens can be more comfortable than an RGP for some patients because the soft skirt does not feel as abrasive when blinking. You can think of it as a combined lens with a hard and soft lens put together and melded into one lens (as opposed to the piggyback system where they are 2 separate lenses). These lenses are not as durable as a RGP or scleral lens and are usually replaced more frequently as a result.
Scleral Contact Lenses
Scleral contact lenses are rigid contact lenses that are much larger than RGPs and extend onto the white part of the eye called the sclera. Scleral lenses have two major benefits over all the other types of contact lenses. First, comfort is better because the lens rests on the scleral (which has fewer nerve endings) versus the cornea (which has many nerve endings and is very sensitive). So most patients say that scleral lenses are hands down more comfortable than RGPs. Secondly, because scleral lenses are so large they are much more stable on the eye and do not tend to move around a lot when you blink. Because the contact vaults over the cornea, it actually does not touch the cornea at all- leading to better comfort. Because the scleral lens is rigid- it creates a smooth surface for light to pass through causing clearest vision.
Scleral lenses have been a real game changer in the last few years and the technology has improved by leaps and bounds. Scleral lenses have been instrumental in fitting corneas even with severe scarring, corneas after surgeries gone wrong, or corneas suffering from extreme dry eyes.
The main downside of scleral lenses is that it can be slightly more complicated to insert compared to other contact lenses. All other contact lenses you can look straight into a mirror and just place them on the eye. Scleral lenses however require special tools and special solutions for proper insertion and care.
SURGICAL TREATMENTS FOR KERATOCONUS
Can I just get LASIK Instead!?
The quick answer is that keratoconus or even risk for keratoconus is a contraindication for most refractive surgery. Refractive surgery is any surgical procedure that aims to correct your prescription with a surgery. Keratoconus however is considered an "at risk" eye and can lead to multiple complications if the wrong surgical procedure is performed. Here is an overview of approved surgical procedures for patients with keratoconus.
Corneal Crosslinking
Corneal cross linking is an in-office surgical procedure that combines riboflavin (vitamin B2) eye drops and ultra-violet light to the cornea in order to strengthen it.(3) By "stiffening" the cornea with this procedure it will help to stop the cornea from bulging and thinning. This procedure is highly effective in preventing progression of keratoconus, but unfortunately cannot reverse or cure the disease. It is more often recommended for younger patients at the beginning stages of the disease before it gets too severe. Again, this procedure aims to stop progression but cannot reverse the keratoconus nor correct the vision. It is not a LASIK procedure and often times the vision will be about the same after the procedure compared to before the procedure. Still, it is the best known surgery of this day to help halt progression. Even after the corneal cross linking procedure however, glasses or contact lenses will often be needed to still see clearly.
In April of 2016, the Avedro pharmaceutical company was the first to receive FDA clearance to perform corneal crosslinking in the United States. Corneal crosslinking did exist prior to that and was being performed as an "off-label" procedure but is now being more highly recommended after recently receiving FDA approval. It is still in the process of being recognized by insurance companies however and is not always considered a covered procedure under insurance.
INTACS Corneal Inserts
INTACS are small inserts that are placed in the cornea to flatten the curvature and create a smoother front surface. It can be helpful for milder cases of keratoconus and are used in patients that cannot tolerate wearing contact lenses. The main goal is to improve symmetry of the cornea so that vision with glasses is improved. In some cases, intacs can correct the vision well enough that the patient does not need to wear any other correction. However, for other patients, they still report still seeing glare and halos especially at night time even after having Intacs put in and only felt that it marginally improved their vision. In most cases, wearing a rigid gas permeable or scleral lenses is recommended even after INTACS are implanted.
Implantable Collamer Lens (ICL)
An Implantable Collamer Lens (ICL)is a soft artificial lens that is surgically placed behind the iris in front of the natural lens of the eye. It can help correct for high amounts of refractive error (usually nearsightedness). It is occasionally recommended to keratoconus patients however it does not fully correct the high order aberrations commonly experienced in keratoconus eyes. However, because it does not improve the corneal symmetry like INTACS, prevent progression like corneal crosslinking, and does not have a tear layer like scleral lenses this is not a popular treatment option.
Photorefractive Keratectomy
More recent studies have indicated that photorefractive keratectomy, or PRK, after corneal crosslinking may help to improve vision through refractive surgery. The results are promising but relatively newer in development that long term effectiveness and side effects are not yet known. Remember however that keratoconus causes an unnatural thinning of your cornea. PRK even when topography guided, will lead to further thinning of your cornea. Be fully informed and understand the risks and rewards fully with PRK before electing to move forward.
Corneal Transplants
As a last resort, if the condition of the cornea is too weak or scarred to give decent vision, then a corneal transplant will be recommended. Surgeons will remove your cornea and then replace it with a donor cornea. Traditionally, this procedure was called a penetrating keratoplasty (PKP or PK) and the full thickness of your cornea was removed prior to adhering the donor tissue. Stitches were used to keep the donor tissue in place. In order to prevent graft rejection, you usually were prescribed special medicated eye drops to prevent infection and complications.
Luckily, newer techniques such as Deep Anterior Lamellar Keratoplasty (DALK) are less invasive and do not involve removal of the full thickness of the cornea. Instead only the outermost layer is removed and replaced. This allows for quicker recovery time and a smaller chance of graft rejection.
Unfortunately, usually after a corneal transplant, vision is still not perfect after the surgery alone. Since the eye now has a donor cornea in place, it has a better chance of seeing but will still likely have an irregular shape which requires some form of contact lens or glasses correction. The good news is that over 90% of patients with keratoconus will not need a corneal transplant.
Who Can Help Me with Keratoconus Options?
So now that you have learned about all the treatment options available to help keratoconus — how do you decide which is the right one for you? You need to get the right eye doctors on your team to give you the best advice- Your MVPs are going to be an optometrist well versed in treating keratoconus and a corneal specialist. You should contact both eye doctors to make sure you are well informed of all your treatment options. It should be a coordinated team effort and I would be wary of any eyecare practitioner, optometrist or ophthalmologist, that states they have all the solutions you need.
Optometrists — Doctors of Optometry that are well trained in all aspects of the eye, including the health of the eye, refractive conditions, spectacle lenses, and contact lenses. These doctors not only prescribe glasses and contacts but can also be well trained to manage special cases such as those with keratoconus. Unfortunately, not all optometrists are as comfortable or knowledgeable at treating keratoconus so do not be bashful to inquire over the phone the office's expertise with keratoconus. A good optometrist will gladly refer if they are not experienced with keratoconus. However, there do exists a handful of optometrists that are well trained and very experienced with fitting glasses and contact lenses for keratoconus patients, so keep searching until you find the right one. The right optometrist can fit you with proper glasses and contact lenses and will be the key player to help you see the best. When searching for the right optometrist, be sure to ask if they have a lot of experience working with keratoconus patients before booking your appointment. Hint* ask the receptionist "what do you know about keratoconus?" If it's an office that regular works with keratoconus even the receptionist should be knowledgeable about your condition!
Corneal Specialist — Ophthalmologist specially trained in treating and managing conditions of the cornea. A corneal specialist will not only be able to diagnose you with keratoconus, but can also provide good insight into surgical treatments that are available. They will watch for dangerous side effects such as scarring and if seen, will be the surgeon to perform the procedure to help remove it. For any surgical treatment recommended for keratoconus (like any of the treatments mentioned in the previous chapter), it will be performed by a corneal specialist. Corneal specialists often do not fit you for glasses, scleral lenses, or gas permeable lenses however and would often refer you to an optometrist for those services.
A side note: You may also hear of a General Ophthalmologist and wonder if you should see one of those eye doctors as well, or your primary care doctor may refer you to see an "ophthalmologist" but did not specify what type. Ophthalmologists are medical doctors that are well trained in all aspects of the eye, but more specifically focused on the health of the eye, medical treatment, and surgical procedures. A general ophthalmologist could quickly recognize and diagnose you with keratoconus, but may not fit specialty contact lenses/ glasses that could correct your vision back to normal. Ophthalmologists can be a great starting point to direct you to other specialists, such as a scleral lens fitter or a corneal specialist.
How we do it at Insight Vision Center Optometry
The quintessential question is that there are a many ways to treat keratoconus. Want our doctors' expert opinions on which is right for you? If you have been bounced from optometrist to optometrist, never quite getting the answers that you need…then your search ends here.
Dr. Thanh Mai and Dr. Valerie Lam at Insight Vision Center Optometry know keratoconus. We like to personally discuss each case beforehand over the phone so we can get to know you, your eyes, and your personal needs. We also allocate the correct amount of time for our visit together, never rushing you or getting frustrated at you because you can't tell if "1 is better than 2". Some patients need surgery while others need specialty contacts, eyeglasses or even a combination of all of the above. We consider your entire situation before giving our best recommendations.
We believe that if your eye doctor only discusses the services they provide but doesn't give you the entire picture- then you have the right to be wary. So beware of surgeons that only recommend surgery and nothing else. Or optometrists that only sell you glasses or contacts and nothing else. At the end of the day, you need to press further with more questions because these are your eyes, and you are your best advocate. An informed decision is a wise decision and we believe at Insight Vision Center Optometry that there is no greater gift we can give you than greater Insight into your vision. It's time to stand up to that bully called Keratoconus and fight back, because Life takes vision. Give us a call and let's get after it!
REFERENCES
J.L. Olivares Jiménez, J.C. Guerrero Jurado, F.J. Bermudez Rodriguez, and D. Serrano Laborda, "Keratoconus: Age of Onset and Natural History," Optometry and Vision Science, Mar. 1997, vol. 74, no. 3, pp. 147–151.
J. Sugar, MD* and M.S. Macsai, MD, "What Causes Keratoconus," Cornea, June 2012, vol. 31, no. 6 , pp. 716–719; doi: 10.1097/ICO.0b013e31823f8c72.
M.D. William Trattler, "Corneal Cross-linking (CXL): For Keratoconus Treatment And LASIK-Related Corneal Ectasia," All About Vision.
National Keratoconus Federation; https://www.nkcf.org/who-gets-keratoconus/ (Retrieved on 11-2-2017).
Contact Lens Anterior Eye, Sept. 2007, vol. 30, no. 4, pp. 223–232. Epub 2007 May 3.
H. Wagner, J.T. Barr, and K. Zadnik, "Collaborative Longitudinal Evaluation of Keratoconus (CLEK) Study: methods and findings to date," Contact Lens Anterior Eye, Sept. 2007, vol. 30, no. 4, pp. 223–232. Epub 2007 May 3.