Care and Treatment for Eye Conditions
Our goal at the Insight Vision Center Optometry is to give patients with eye problems the latest complete knowledge regarding the management and treatment of their medical condition. Our services include treatment and care of a wide number of eye conditions. The proper treatment and care of any of these conditions depends on the individual nature of your problem.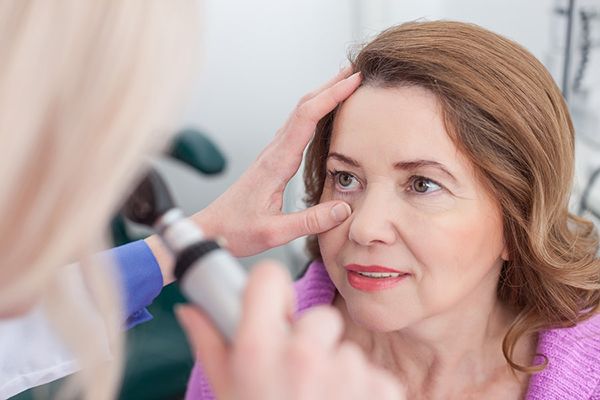 Dry Eyes is a common condition where the eyes cannot produce enough tears, or the tears are too quick to evaporate. This causes the eyes to dry out and become red, itchy, and swollen.
Red Eyes/Pink Eyes is caused by a virus or bacteria that affects the conjunctiva (the mucous membrane that lines the eyelid and eye surface). Infection leads to the redness and swelling that typifies the condition.
Myopia is also known as nearsightedness, and represents a refractive error that prevents the eye from bending or refracting light properly. The result is that distant objects appear blurry, while close objects are clear.
Hyperopia is the opposite of myopia, and thus distant objects appear clearer than close ones. It is commonly known as farsightedness.
Amblyopia, more popularly known as lazy eye, this condition represents hampered vision development in which one eye is unable to achieve normal visual movements. It usually affects only one eye, but in rare cases, both eyes can suffer from amblyopia.
Glaucoma is a degenerative condition that affects the eye's optic nerve. If the damage is left untreated, the problem can lead to permanent blindness.
Cataracts refer to the clouding that occurs in the eye's natural lens that make it impossible to see. A common condition in older adults, but even infants can have cataracts.
Keratoconus is the thinning of the cornea (the clear layer on the front of the eye), resulting in a cone-shaped eye surface instead of the normal dome shape. Objects become distorted because of the cornea's now irregular shape.
Our Services
Whatever eye conditions you may suffer from, our eye doctors offer the support services and advanced treatment options to help you beat your problem once and for all. Our in-house optometrists can provide the following vision care and treatment procedures for our patients.
Keratoconus treatments
Vision therapy
Orthokeratology
Eyeglasses, contact lenses, and other ocular products
Pilot vision eye exams
Contact Our Eye Doctor for an Appointment Today
Call Insight Vision Center Optometry at (714) 486-3315 or click here to schedule an appointment and get your specific eye conditions identified and treated.