Our young ones mean the world to us and we always want them to be in good health! The moment a child opens their eyes from birth, they begin to take in all their surroundings and try to make sense of it all. Their vision and the developmental phase of processing what is around them sets the foundation of being able to properly navigate through this big world.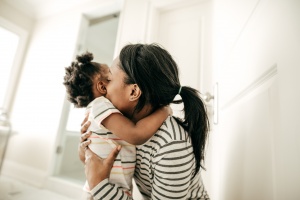 The first few months of a child's life is where a lot of growth in their visual developments happens. Having the ability to control their eyes, focus, and follow an object should be apparent at 3 months old. If your child's eyes frequently crosses in towards their nose or outward or they show a delay in following moving objects, a visit to an optometrist is recommended. After examination, a non invasive approach to help with these symptoms that might be recommended is vision therapy.
Vision therapy aims to help the brain and eyes work together efficiently as a team and strengthen visual processing skills. The parent is taught fun activities to do with their child like a cheerio pushup that works on bringing the eyes towards the nose and out in a controlled motion or moving a stuffed animal around to help strengthen focusing and tracking skills.
Please contact our office for any questions on vision therapy and how it could benefit your child! Our staff are happy and ready to assist you!